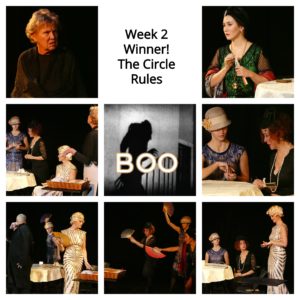 Congratulations to Ed Sams whose play "The Circle Rules"
is the week two winner of the 8th annual
Players Theatre Short Play Festival – Boo! 2018.
The Circle Rules concerns historical characters involved in the last great struggle between science and spiritualism when the Great Houdini spent the last years of his life exposing fraudulent séances.
The production was also directed by Chris Deatherage and the talented cast included: David C. Neal as Jane, Dane Anderson as Rabbi Weiss, Dana Block as Mrs. Verrell, Melissa Jones as Margery, Alicia Hartz as Agnes Guppy, Mallory Mullins as Miss Willet and Meliors Dockery as the Mrs. Clatterham.
Check out week 3 – Thu thru Sat at 7p & Sun at 3p