A little bit naughty, a little bit nice, sweet and possibly sexy.  No one under 18 will be admitted to the performance so …..
Previous Festival Winners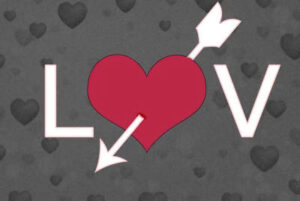 ---
12th Annual SPF
LUV 2023

Play Selection and Weekly Winners

Click

HERE

for a detailed description of each play.
Week One: February 9 – 12
"What Say You, Boson Q?" by David Malouf — WINNER!
"Differently Abling" by Zoé Badovinac
"The Rules" by Megan Kemple
"Our Daughter's Wedding" by Saima Huq
"Feng Shui" by Taylor Vetter
Week Two: February 16 – 19
"Wedding Blues" by Frank Stancati
"Tomorrow" by David Taylor Little
"The Immortal Jellyfish" by Elise Valderrama
"Marriage Counseling on Valentine's Day" by William Zolla II — WINNER!
"Do I Know You?" by Michael Long
Week Three: February 23 – 26
"Forever?" by Mike Teverbaugh
"The 7 Local to Bliss Street" by Charlie Finesilver
"The Muse" by Matthew Carpenito
"She's Got His Number" by Rex McGregor
"Love Potion 69" by Andrea Woodbridge — WINNER!
11th Annual – SPF-LUV 2022 Play Selection and Weekly Winners
Week 1: February 10th-13th

Shame by Danielle Boss
Spring Brides, Circa 2020 by Wayne L. Firestone
Machete Mary by Carina Torres**Audience Choice BEST PLAY!**
A Brief Encounter by Meny Beriro|
Good Intentions by Andrea Woodbridge
Week 2: February 17th-20th
The Other Side of Love by Brenda Bell
Extravagant Toast by Annie Brown
Knots by Robert Moulthrop
Mr. Pinky by Caitland Winsett **Audience Choice BEST PLAY!**
Old Friends by Braddon Mendelson
Week 3: February 24th-27th

Blind Dated by William Zolla II
Unromantic Bouquet by Rex McGregor
Fjords by David Masello
And One More Thing… by Lonnie McGuire
Emergency Contact by Jake Alexander **Audience Choice BEST PLAY!**
---
9th Annual
February 15 – March 01, 2020
Week 1 – Feb 13 -16th
By the Foot by Genny Yosco
Jack & Jill by CB Murray – WINNER
Spinning the Record by Amanda J. Bermudez
Sleep Here by Michael Long
Bachelorette by Amanda Murphy
Week 2 – Feb 20 -23rd
Moss by Catalina Florina Florescu
Ole! By Joseph Sexton
Doing It by Leonard D Goodisman
Date Show the Game Show by Carina Torres
The Gift by Lawrence Kessenich – WINNER
Week 3 – Feb 27 – March 1st
A Matter of Taste by Amy Drake
John & Eleanor by Serah Bennett
The Story of Oh (Revised and Abridged) by James Colgan
What to Expect When You're Expecting Our Lord and Savior by Bailey Jordan Garcia – WINNER
The 5 Minute Pill by Richard Roy
---
2019 February Finalists & Winners
February 7 – February 24, 2019
Week 1 – 02/07/19 -02/10/19
Maneater by Emmy Potter
All I Wanna Do by GennyYosco
The Legally-Binding Consummation of  Lord Benedict De Tancarville
and Lady Christine D'Aguillon by Maia Henkin – WINNER
Love Cures by Patrick McEvoy
Big Three-Ring Goodbye by Michael Long
Week 2 – 02/14/19 – 02/17/19
Advances by Eileen Byrne
Reality Rejects by Susan Boggess – WINNER
Celine and Justin by Kieran Carroll
Hot for Teacher by Amanda Murphy
The Carpenter, the Flood, and the Fart by Lawrence Rinkel
Week 3 – 02/21/19 – 02/24/19
The Difference by Jack Rushton
Foreplay – The App by Walter Thinnes
Waking Up by Jocelyn Freeman
Bangin' on Rosh Hashana by Nick DeSimone
Bite the App by Tim Allis – WINNER
---
Previous Festival Winners
2018 February Finalists & Winners
DATES & LOCATIONS:
February 8 – February 25, 2018
The Steve & Marie Sgouros Theatre at The Players Theatre
115 MacDougal Street, New York, NY  10012
Week 1: February 08-11, 2018
Turnabout by Christopher Marshall – WINNER
The Depressed Hustler by Michael S. Piatkowski
Countdown by Straton Rushing
The Fairy Tale of America by Michael Niederman
Business As Usual by Genny Yosco
Week 2: February 15-18, 2018
The Eggshells by JC Hopkins
Matt and Susan and Greg and Julie by Walter Thinnes
The Heart Wants by Danielle Fink
V-Card by Stacey Weingarten – WINNER
Belgium Has Fallen by Michael Long
Week 3: February 22-25, 2018
45 Coffee Dates – an excerpt by Antonia Kasper
BeeKeeper by Jack Rushton – WINNER
Whole by Alina Jacobs
Red and the Wolf by Ingrid Oslund
Meep-meep by Paul Pasulka